Oracle CloudWorld 2022 -Sessions I'll be looking to attend..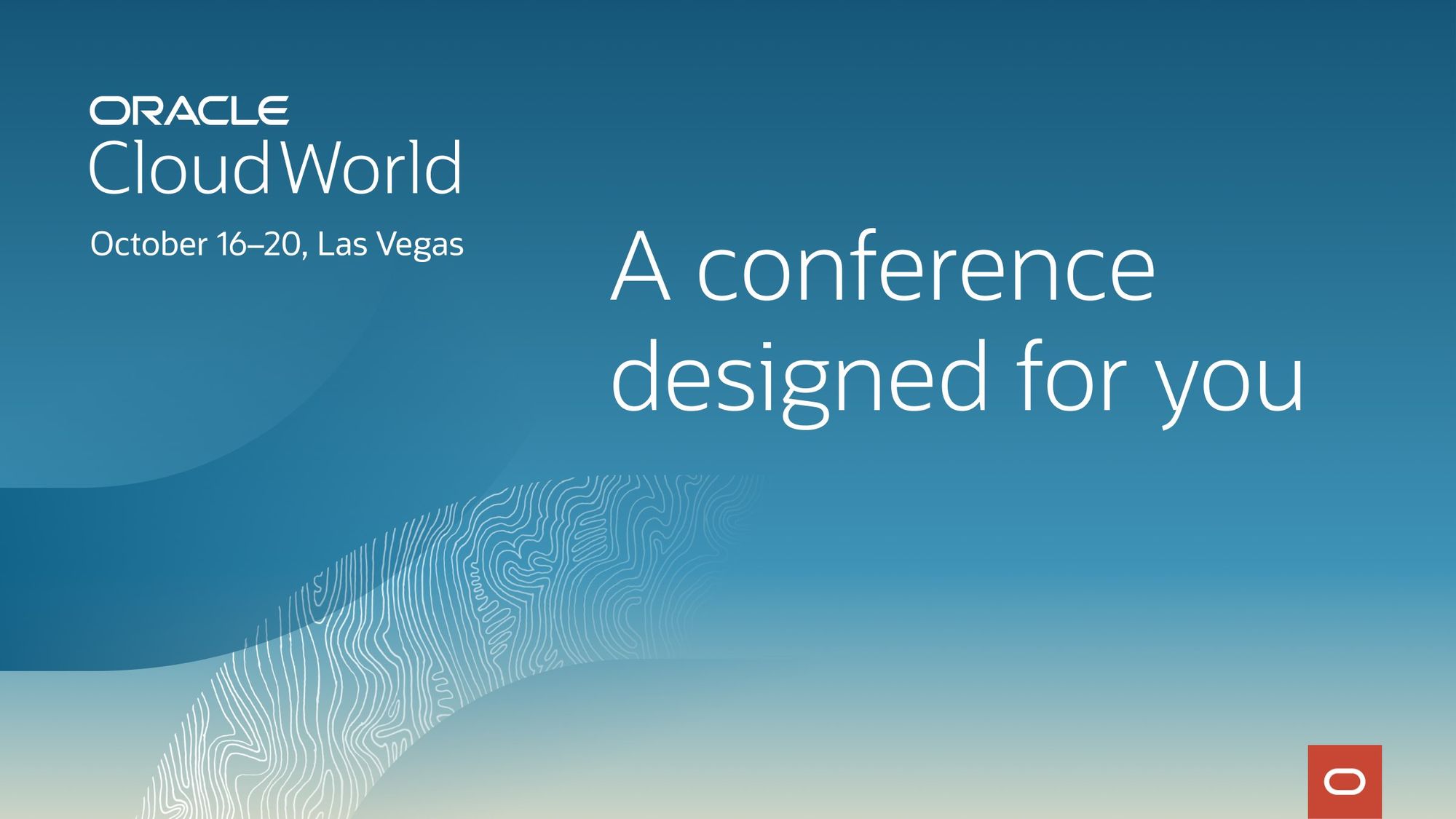 My flights are booked and I'll be flying into Las Vegas October 16th - this will be my first in presence conference since Covid and I honestly can't wait! We are about a month away and so I've begun planning the sessions I want to attend and thought I'd share - If you're presenting on innovation, content, blockchain or digital assistants and I've missed your session let me know!
Accelerating Innovation with Oracle Cloud and the Partner Ecosystem [LRN2480]
To grow and gain market share, manufacturers need to innovate faster than the competition. The Oracle Cloud Marketplace offers cloud-based solutions from independent software providers that run on Oracle Cloud Infrastructure. See how Oracle's partners supplement the comprehensive capabilities in Oracle Cloud with powerful cloud-based applications offering a range of capabilities—from artificial intelligence and virtual reality to lean manufacturing, 3D visualization, and mobile data processing. Hear how Oracle customers are leveraging the expanded capabilities brought by Oracle's ecosystem.
---
Building Redwood Application Experiences with the Oracle Applications Platform [LRN3763]
Learn how the Oracle Redwood design system combines with the Oracle Applications Platform to give every Oracle Fusion Applications customer a powerful and easy-to-use platform. This includes Oracle Visual Builder Studio's low-code app designer, complete source code management, and team development features. See how Oracle Fusion customers get the ability to extend Oracle applications as well as create entirely new ones. This is the same design system and platform that Oracle uses to build Oracle Fusion Applications—and Fusion customers can now get all its benefits for their extensions and custom applications.
---
Build Redwood Application Experiences with the Oracle Applications Platform [HOL4008]
See how the combination of the Redwood Design System plus the Oracle Applications Platform gives you a powerful and easy way to extend Oracle Fusion Cloud Apps. Get hands-on experience with Oracle Visual Builder Studio with its low-code app designer, source code management, and team development features, and create SaaS extensions. Leverage the same development platform and design system that Oracle uses to build Fusion applications, and see how developers, customers, and partners get the same benefits for their extensions and custom applications.
---
Designing Redwood Experiences That Your Organization Will Love [LRN1604]
The Oracle Applications Platform helps you create modern, sophisticated, consumer-grade applications—whether extending Oracle Fusion Applications or building your own. It does this by combining sophisticated search, powerful business objects, built-in telemetry, low-code tools, and the new Redwood design system. Find out how the Oracle Applications Platform helps your developers build applications they love, and that your organization loves using.
---
Develop NFT and FT Apps on Oracle Blockchain Platform [LRN3496]
Learn how Oracle Blockchain Platform enables low-code implementation of NFTs and FTs— which customers are using in their rewards programs, supply chain tracking, web3 ecosystems, and NFT marketplaces. See how you can quickly implement such solutions using Oracle Blockchain Platform and Oracle Cloud Infrastructure reference architectures to benefit your company.
---
Driving Innovations with Oracle Blockchain Platform [LRN3495]
Oracle teams have worked closely with customers and partners to develop enterprise blockchain through the rich features in Oracle Blockchain Platform. Examples include use cases from cross-ERP reconciliation to eKYC in banks, ethical materials sourcing and battery recycling by leading manufacturers of electric vehicles, global trade and logistics, rewards programs, supply chain tracking, web3 ecosystems, NFT marketplaces, and others. We showcase the rapid deployment of Oracle Blockchain Platform networks, creating smart contracts using low-code Blockchain App Builder, and integrating with various ERPs and other systems of record.
---
Enable Mobile Workers to Deliver Better Field Service Outcomes [LRN1705]
Generational shifts in mobile workforces are causing service leaders to rethink how they onboard, equip, support, and incentivize their field service teams. Today, mobile workers have to be able to contribute immediately, work autonomously, and keep up with frequent updates to the complex products they serve. New capabilities for knowledge sharing, collaboration, parts management, guided workflows, and augmented reality help ensure successful outcomes. On-demand digital assistants and live support increase the likelihood of first-time resolution as well as cross-sell and upsell revenue. Join this session to see how these capabilities are helping Oracle customers differentiate the service experience for customers and their mobile employees.
---
Evolution of Digital Assistants and Conversational AI-Enabled Automation [PAN3602]
Conversational AI and chatbots are rapidly becoming common tools for automating service at customer service organizations and contact centers. Hear how leading retailers like Costco and Office Depot—and higher education institutions like James Cook University—are delivering next-generation customer service and contact center experiences powered by Oracle Digital Assistant and Oracle Cloud Infrastructure Contact Center AI.
---
Exceed Customer Expectations with Digital-First Service Experiences [LRN4507]
Organizations across industries are feverishly competing in the experience economy. Yet, with modern service capabilities widely adopted as a result of accelerated digital transformation, many are inadvertently suffering from "digital sameness" with their competitors. At Oracle, we believe that leveraging a digital-first service strategy to meet consumers' maturing expectations is more important than ever. Learn how Oracle's Service solution enables predictive, unique, and hyperconvenient service experiences with Digital Assistant, Web Inlays, Knowledge Management, and more. And get inspired to deliver digital-first service at your organization by hearing the use cases and results of existing customers.
---
Get Started with Oracle Content Management on Oracle Cloud Infrastructure [LIT1954]
Every area of your organization uses content. It's the foundation of our digital world. But are you doing it efficiently? Learn how Oracle Content Management helps manage business assets, digital media, documents, and any other type of content. See how to provision Oracle Content Management on Oracle Cloud Infrastructure (OCI), and how to create a repository. Learn how to define your content model, use AI to tag and classify your content, secure your content, and integrate with OIC for content workflows. Finally, find out how to publish and deliver your content via sites and headless channels.
---
How Oracle Increases Front-End Developer Productivity [LRN3573]
With hundreds of developers building our cloud SaaS offering, Oracle is always on the hunt for ways to make them more productive. We discuss techniques and tools our developers use while developing the next generation of Oracle SaaS leveraging a JavaScript/HTML/REST cloud native tech stack. We demonstrate leveraging reusable web components, visualizing business logic flows, simplifying test-driven development, generating meta-date driven dynamic UI, and leveraging a visual development approach to reduce manual coding and coding mistakes.
---
How Personalization Improves Employee Experience [LRN1440]
Engaging your workforce effectively has never been more important. Delivering relevant experiences that demonstrate you are listening improves responsiveness to automated requests. Personalization gets your employees' attention, while intelligence helps them take the best action. Learn how to personalize experiences with contextual journeys—and the extensibility of Oracle Cloud HCM—to reduce complexity and eliminate repetitive actions by presenting relevant information in the context of the current process, the person, and the request made. See how organizations today are tailoring experiences to speed up process completion by providing valid options the first time.
---
How Voice AI Can Drive Commerce and Reduce Costs While Delighting Customers [LIT2923]
Consumer demand for contactless experiences, coupled with labor force challenges, has accelerated trends toward voice-enabled solutions that improve customer service and operational efficiencies. As an Oracle strategic business partner, SoundHound is building better voice experiences on the most reliable cloud environment available. Learn how their automated phone and drive-through voice ordering solutions are already creating greater efficiencies and customer loyalty in the restaurant industry by helping solve staffing problems while delivering helpful and natural voice assistance. Plus, hear how voice-enabled kiosks, warehousing solutions, and employee assist systems are making their way into retail, restaurants, and hospitality.
---
Logivity—a Volvo-Created Blockchain-Based Logistics Ecosystem Revolution [CTH4593]
Logistics costs, which make up a huge 5-20 percent of countries' total GDP, could be cut in half through efficiency measures. And since transportation contributes 27 percent of humanity's greenhouse emissions, fixing this is a win for both the economy and the planet. In an industry ripe for disruption, Volvo is spearheading the revolution with Logivity—an open ecosystem built on Hyperledger Fabric-based Oracle Cloud Infrastructure Blockchain Platform, integrated with Oracle Transportation Manager and Oracle ERP Financials. Logivity enables transparency and removes intermediaries between shippers and carriers. It also spurs competition, protects data rights, reduces disputes via a distributed ledger, and uses Web3 tokenized micropayments.
---
Low-Code Blockchain NFT Apps Using Blockchain App Builder and APEX [HOL4082]
This lab shows how to create your first blockchain and NFT app on Oracle Cloud Infrastructure (OCI). Take advantage of two low-code tools: Oracle Application Express (APEX) for front-end build and Blockchain App Builder for smart contracts generation. Get to build a car dealer network blockchain where dealers trade parts and vehicles, with NFTs for car titles and fungible tokens for payments. Auto-generate the smart contracts in the Blockchain App Builder, deploy them to the Oracle Blockchain Platform, and connect low-code APEX UI app using REST API calls to query and invoke smart contracts to search the inventory, place orders, transfer ownership, and settle payments.
---
Media, Gaming, and Sports on Oracle Cloud Infrastructure [BOF3593]
This facilitated panel with participants from media, gaming, and sports startups includes a brief discussion and a panel Q&A. We describe the growth of cloud-based media and entertainment and discuss how that is infiltrating general business and enterprise, gamification, NFTs, and interactive streaming. We also discuss considerations of media in the cloud, such as bandwidth, latency, shape flexibility, and GPU support. Plus, we show how Oracle Cloud Infrastructure supports media, gaming, and sports business in the cloud and why this important for the modern enterprise.
---
Oracle Content Management: How Oracle Powers Its Own Customer Experiences [LRN4482]
Unifying customer experiences while reducing costs and eliminating content silos requires a new approach. Oracle Content Management plays a crucial role in running Oracle's business and delivering content to over 130,000 employees, 7,000 customers, and hundreds of partners globally. Learn how its extreme scalability and maximum flexibility unlock support for several use cases—like storing and delivering petabytes of product collateral, customer stories, videos, and more via thousands of internal and external web and mobile experiences.
---
Premier League Challenge [HOL3895]
In this challenge, we demonstrate how computer vision and AI algorithms can analyze matches recorded by one camera. We extract useful information from video material—such as player position, player pose, and ball position—and produce insights from that data that are useful for players, teams, bookmakers, and fans.
---
Raise the Bar with Content Management [LRN4365]
This panel with AirBorn and a Midwest insurance provider discusses using Oracle Content Management to provide innovative experiences. Chris Stone, SVP of Oracle Content Management, also shares Oracle Content Management's unique approach to streamlining your organization's various content management challenges—such as digital asset management, headless content management systems, digital experience platforms, and content services.
---
Real Estate Agent Transaction Management System [LRN3612]
The real estate brokerage industry is highly regulated has unique requirements for onboarding agents, nurturing leads, and managing transactions. It also has a very high attrition rate for agents. Therefore, it's critical for brokerages to provide services that simplify transaction management and provide the best customer experience. Home Services of America (HSoA) is a conglomerate of 34 such brokerages. An Elixir application serves the agents and consumers by providing a single-pane-of-glass experience using Oracle SaaS (CX, ERP, OBVAM, IC); PaaS (OIC, VBCS, OCM, ADW, OAC, ODI, API Gateway, IDCS, Webcenter, Essbase); and IaaS services. It is a unique solution integrating all facets of the brokerage operations. Learn more in this session.
---
Running a More Than $40 Billion Business on Oracle Content Management [LIT1953]
A part of Oracle Cloud Infrastructure, Oracle Content Management plays a key role in running Oracle's business and delivering content to its employees, customers, and partners globally. Learn how its extreme scalability and maximum flexibility unlock support for several use cases, including storing petabytes of documents and content for more than 120,000 employees' collaborative document management needs. See how it delivers product collateral and customer stories via internal and external web and mobile experiences. Plus, learn how it serves thousands of internal sites along with Oracle's external web properties from a single application. Save money and reduce application silos by applying these use cases and principles.
---
The Future of Oracle Sales—Innovation Demo and Design Partners [LRN1688]
Oracle's new generation of technology transforms the entire B2B sales organization into a high-performing team by reimagining B2B sales. Leveraging Oracle Fusion across customer experience, ERP, and human capital management, Oracle is connecting its entire B2B sales portfolio. From sales automation to subscriptions; from configure, price, and quote to planning and forecasting, we are bringing process automation, AI, and machine learning natively into our solutions. Customers across high tech and industrial manufacturing are partnering with Oracle Sales to become leaders in their markets as they grow their B2B businesses. See how, over the next 18 months, our strategy will manifest in our exciting new Redwood user experience.
---
Three Steps to Build a Content Practice: A Workshop for Oracle Partners [LIT1946]
Oracle Content Management is a rapidly growing product in Oracle Cloud Infrastructure (OCI), advertising and CX, and other Oracle apps. We showcase a playbook, for partners experienced in Oracle products, to build and monetize an OCI practice. Learn about the myriad supported use cases and how to build a practice.
---
Using a Conversation User Experience to Improve Workforce Collaboration [LIT3985]
Learn how the Oracle Digital Assistant (ODA) platform allows you to create and deploy digital assistants using advanced artificial intelligence, natural language processing, natural language understanding, and machine learning to provide personalized, conversational experiences. See how combining these capabilities with prebuilt, out-of-the-box human capital management (HCM) business processes enables customers to connect with HCM data across multiple channels, including web, mobile, voice, and popular messaging platforms. Plus, find out how ODA combines technology innovatively and delivers superior experiences for your cloud community.
---
What Do Julio Iglesias, Antonio Banderas, and Rosalía Have in Common? [LRN1980]
Since 1890, SGAE (Spanish General Society of Authors and Publishers) has defended the intellectual property rights of more than 100,000 creators of music, theater, and movies. As part of an aggressive digital transformation process, SGAE has chosen the flexibility and scalability of Oracle Cloud Infrastructure (OCI) and its Autonomous Database and Kubernetes services to break the monolith and start a new age of innovation—one that provides their associates better and more modern services. We navigate that process from its inception to the go live, detailing the technical issues faced and visiting the present and future plans of SGAE to innovate using the OCI portfolio and technologies like blockchain and NFT.
---
What's New in Oracle Blockchain Platform [LRN3497]
Get an in-depth look at the current capabilities of Oracle Blockchain Platform and what's next on our roadmap. Also learn, from leading customer adoption examples, how the enterprise blockchain and web3 world intersect.
---
Where Are My Fish? An Overview of Real-Time Visualizations [LRN3581]
In Louisiana alone, the sustainable fishery industries account for more than $2.1 billion in economic impact and tens of thousands of jobs. The industry is also significant for the other Gulf states. As a result, sustainability of the fisheries is critical to both maintaining species diversity and the region's economic vibrancy. We show very interesting real-time visualizations—enabled by Oracle Labs technologies around automated machine learning and spatial graph techniques to track and predict future fishery movement—of matters impacting species. These include the impacts of pollution, fertilizer runoff, and climate change. Plus, we show the value Oracle can bring in mitigating its effects on wildlife populations.
---