Oracle Cloud World 2022 - Day 1 Complete!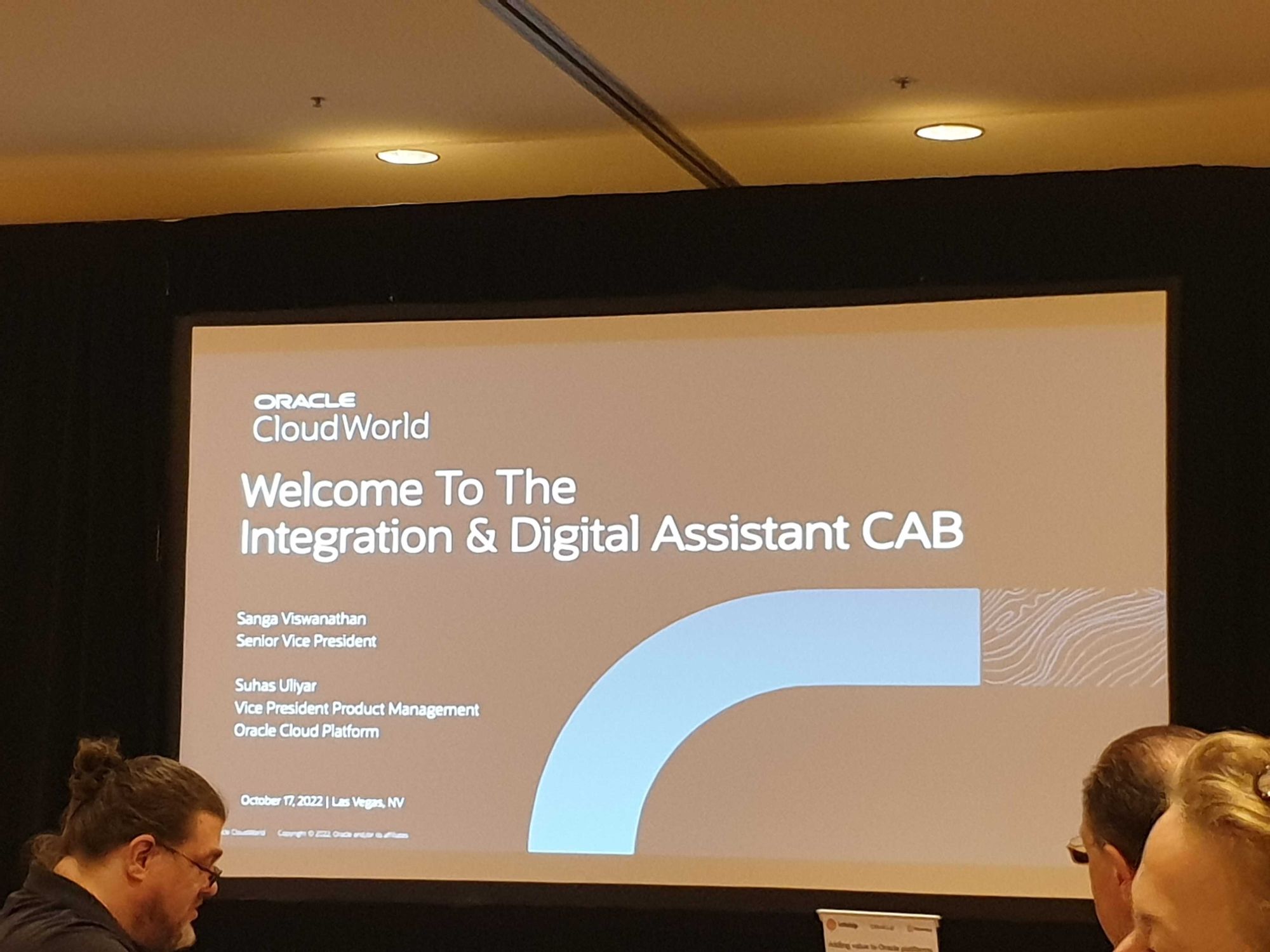 Up at 6am, skipping coffee and prepping for the week and then onto the Oracle Integration & Digital Assistant CAB at 9am. It's been 4 years since my last trade show and yes - it's great to be back! Seeing a lot of the old faces connecting and finding out what's new, comming up and potential proof of concepts that might just become reality in the not so distant future.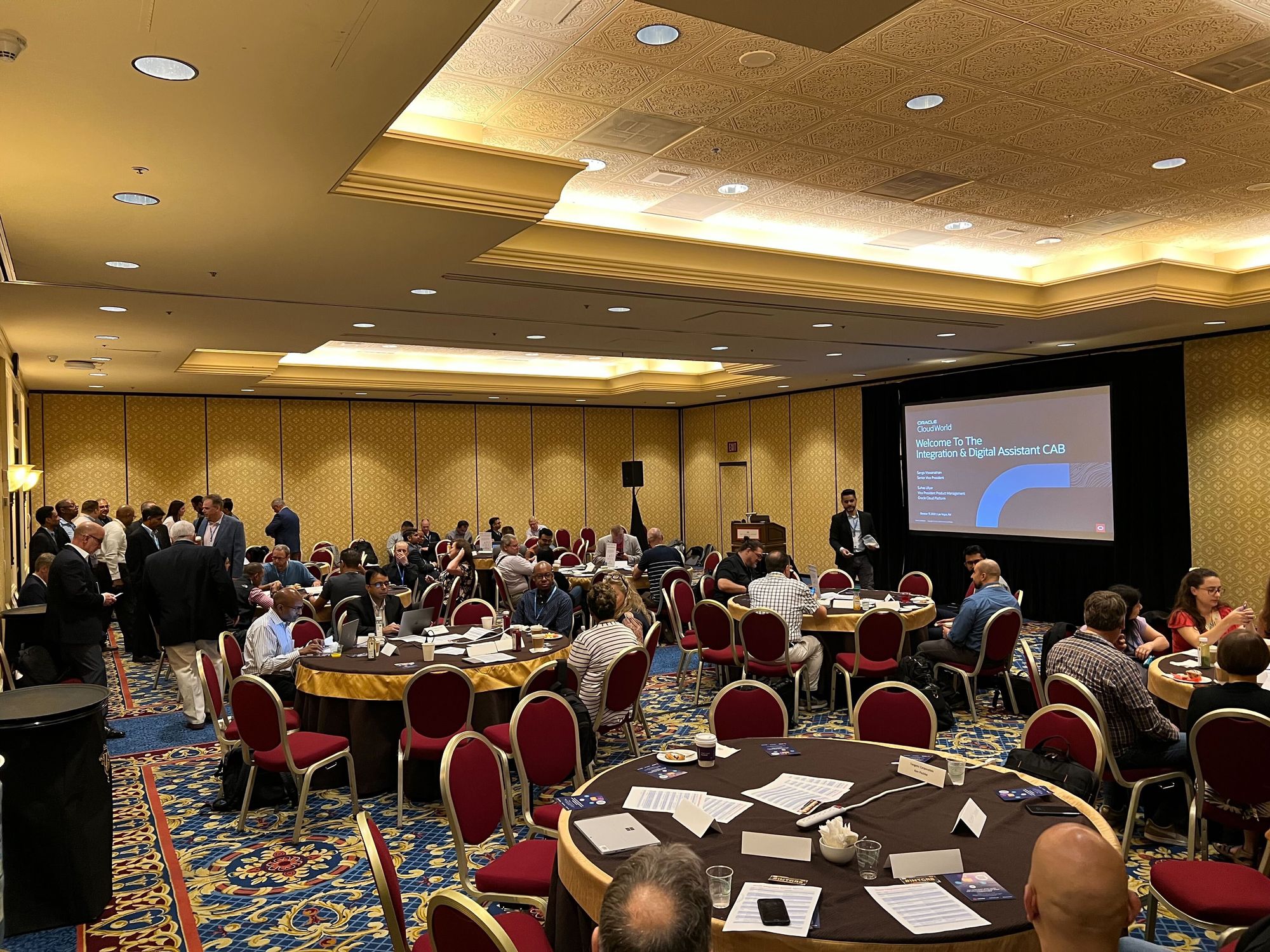 In the morning intro's to the new Oracle team members and leads; a bit of story telling whats happening with the product and how it's grown to cover more use cases and then into the partner show cases: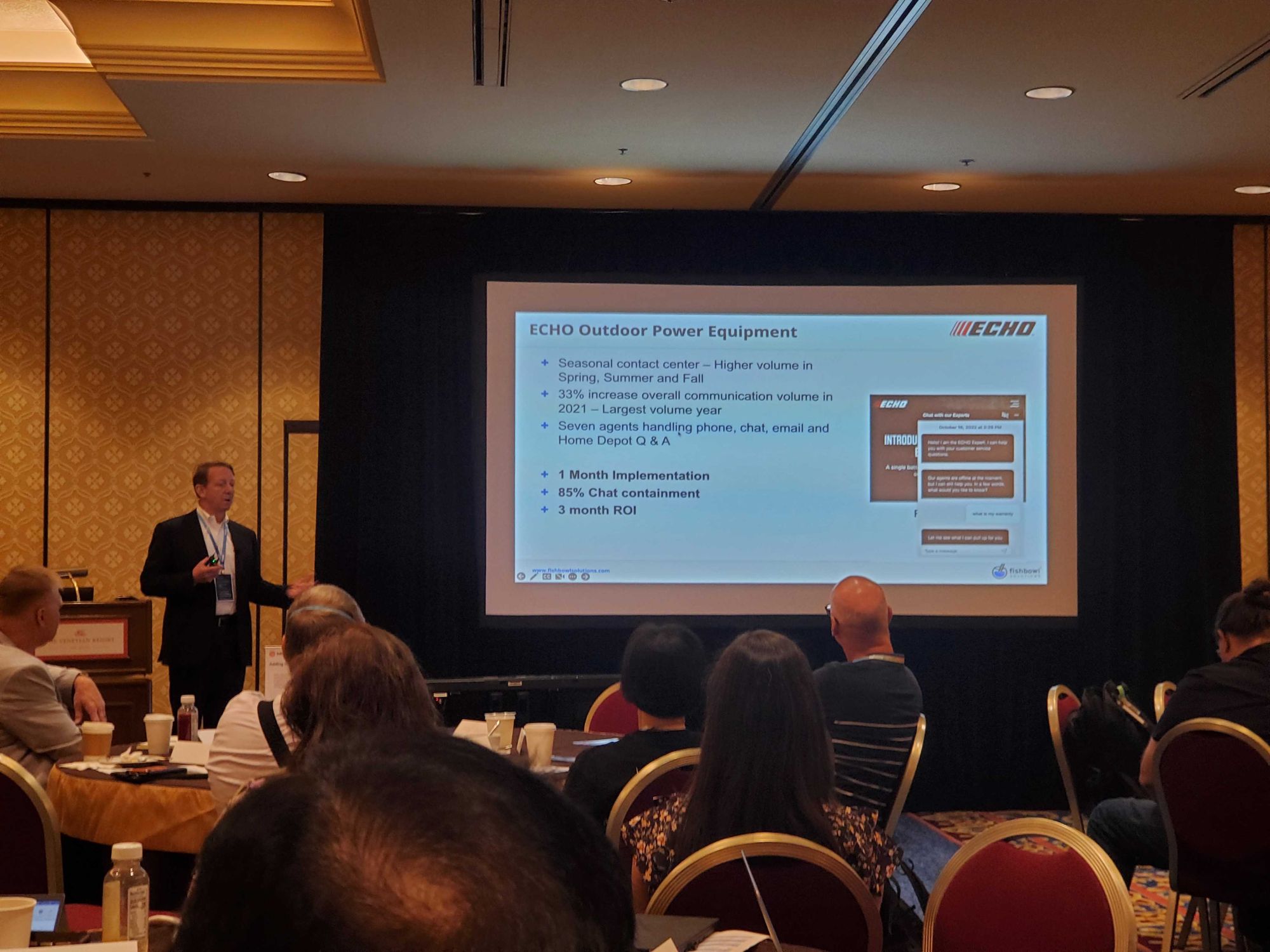 Infobip and their omnichannel integration layer and agent contact center - some really interesting home grown solutions here you should check out.
Fishbowl Solutions covering HR Employee & Customer Service Experience success stories and their suit of accelerators and connectors for Zendesk, HCM, Peoplesoft, Google and more.
The CAB then split into two OIC and ODA - and I headed over to the ODA track to learn more on the new features.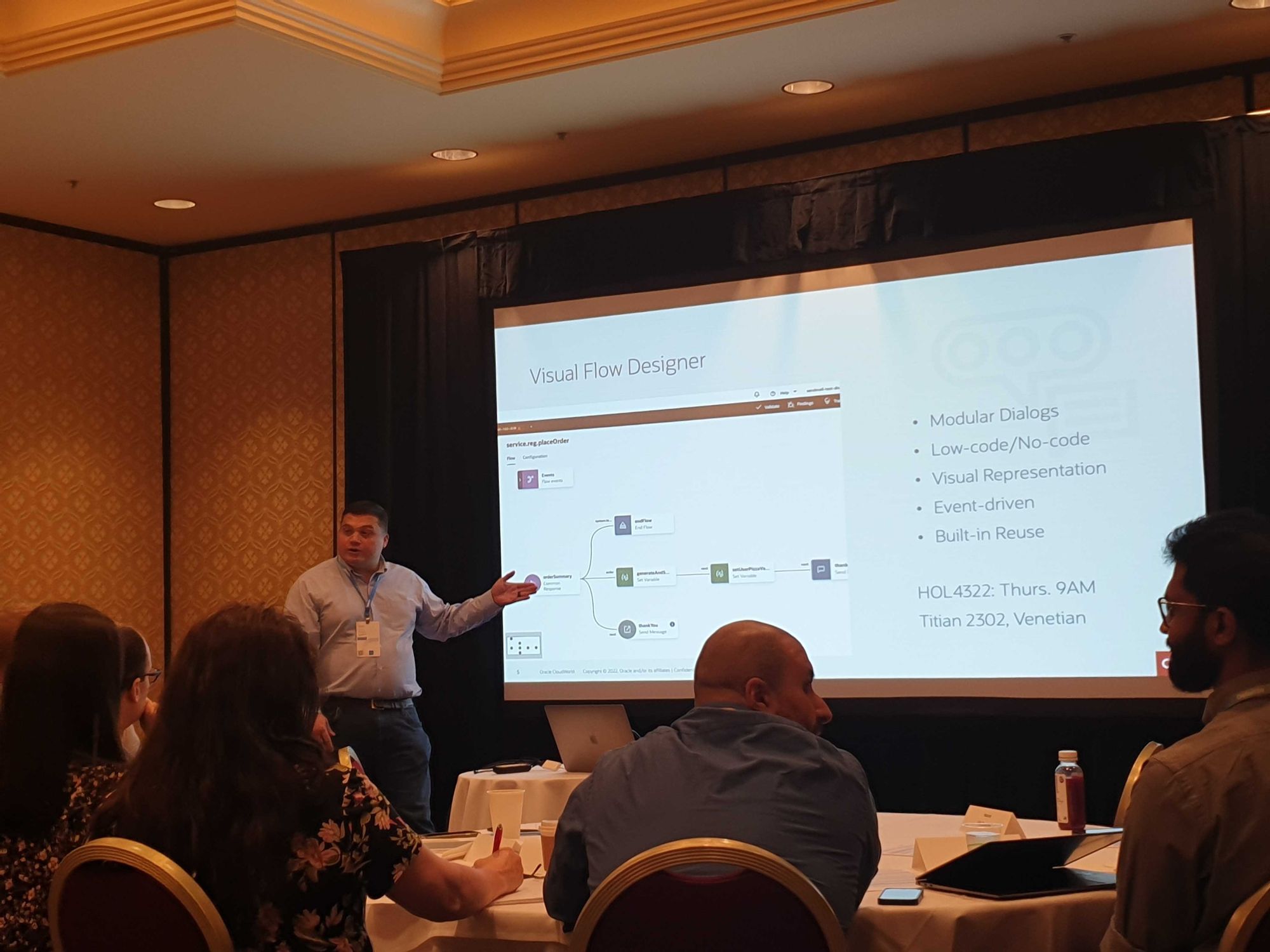 First up the "Visual Flow Designer"
.. I need a mexican wave emoji for this one..

If you write Digital Assistants you will know how much joy we have coding in YAML and reading through the logic of our chatbot flows and working out issues.. This will soon be a thing of the past as Oracle transitions away from YAML to the Visual Flow Designer - 12months is the goal from the product team to complete the transition - I feel that this is a step in the right direction!
With that said what is Visual Flow Designer?
It's a low code approach to designing conversational flows visually - with drag and drop elements of interaction you can now easily present and take your teams through each step of the conversation without now needing to resketch and present updated flows.
Artie Oracles public chatbot has been live using it now for over 3 months and the Fishbowl Solutions team has also gone live using a health provider earlier this year. I'm hearing it's great - there are still a few minor issue but overall this is still far better than using YAML.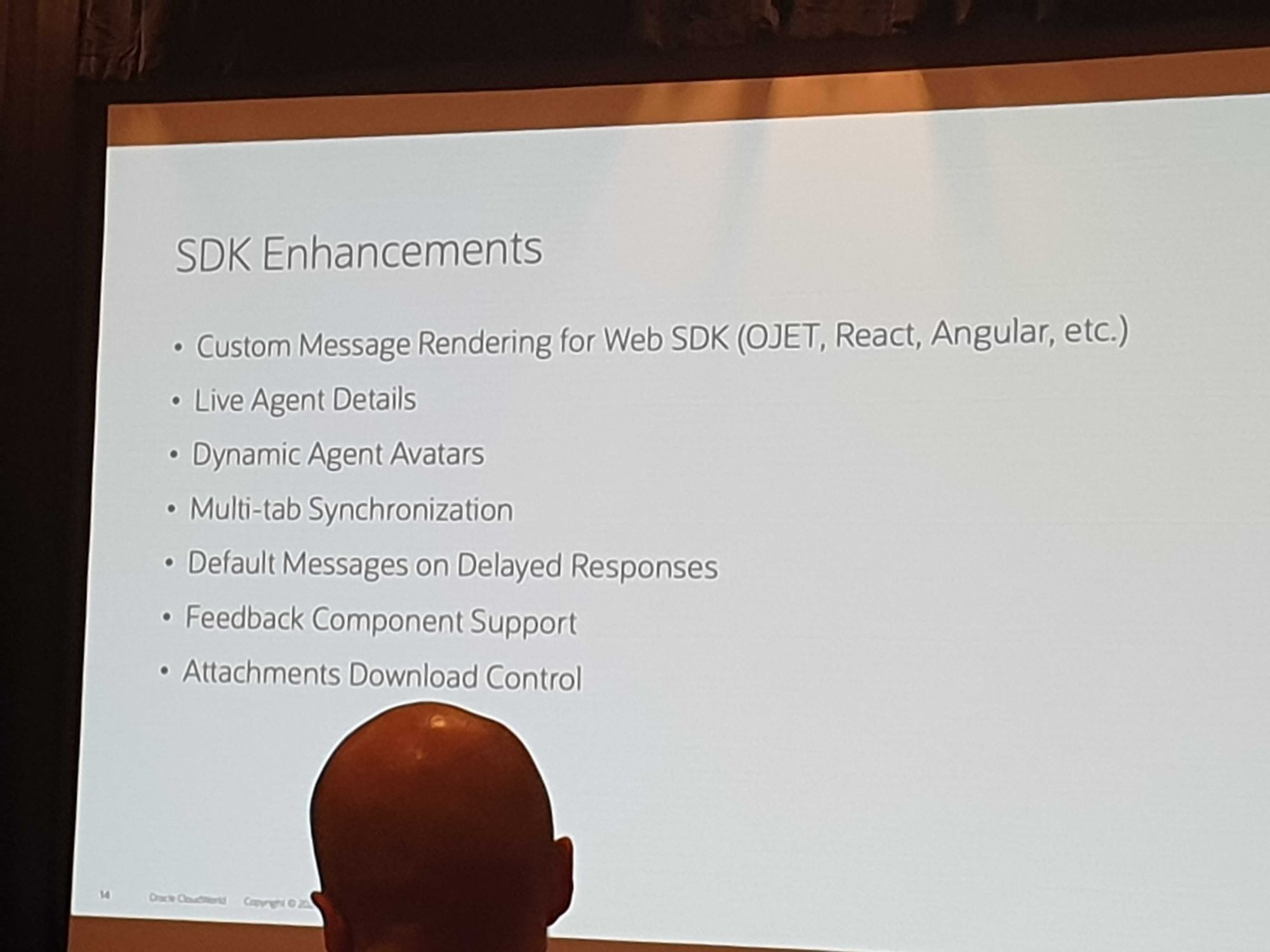 Custom Message Rendering for Web SDK
(OJET, React, Angular, etc)
This one has me the most excited - what it means is that I can now easily release re-usable conversational widgets; that can be imported into the existing ODA Chat UI. It's not yet out though.. but I should be getting early access next week to try it out and write a component or two which I'll share here for you in another post.
Next generation Digital Employee concept
This is a little scary.. if you are like me and watch alot of the Terminator films.. SkyNET comes to mind.. but it's also very very cool and when can I get one..
The team demo'd the concept of providing all employees with their digital counterpart to help assist and handle your day to day mundane tasks and let you focus on innovating. With machine learning to recognise your daily patterns and common objectives and provide ways in which these can be automated and approved. The demo was across channel from slack to a digital dashboard for handling conversation and UI across a split screen interface - I'm really excited to see how this progresses.
Where do I sign up.. I need this in my life now!
---
The CAB ended with after party drinks sponsored
by the Fishbowl Solutions team.
The room was packed and it was great to network and find out what others were doing with HCM and latest with Employee Engagement. Did you know LinkedIn use ODA for their customer facing digital assistant...
---
It was an amazing session - thanks to Suhas and team for organising this CAB looking forward to the next!